Hearing aids
are now more discreet and more powerful than ever before, so it's no wonder that users sometimes end up depending on them for almost all situations. However, because they consist of fragile electrical components, they are still vulnerable to the elements.
Hearing Aid Maintenance
You can make sure your hearing aid works appropriately for the maximum amount of time with a little maintenance. These tips will prevent your hearing aid from requiring repair in the future:
Use a soft cloth to wipe your hearing aid every day
Remove wax from your device using a wax pick.
Clean the microphone and battery door too.
From time to time, remove the earmolds from the rest of the system and wash them with soap and water.
Store your hearing aids in a low-humidity environment.
We should remember that over 75 percent of all hearing aid damage is due to the buildup of hearing aid moisture and earwax. The vast majority of these repairs are entirely avoidable. That is why it's so important to clean the whole hearing aid.
---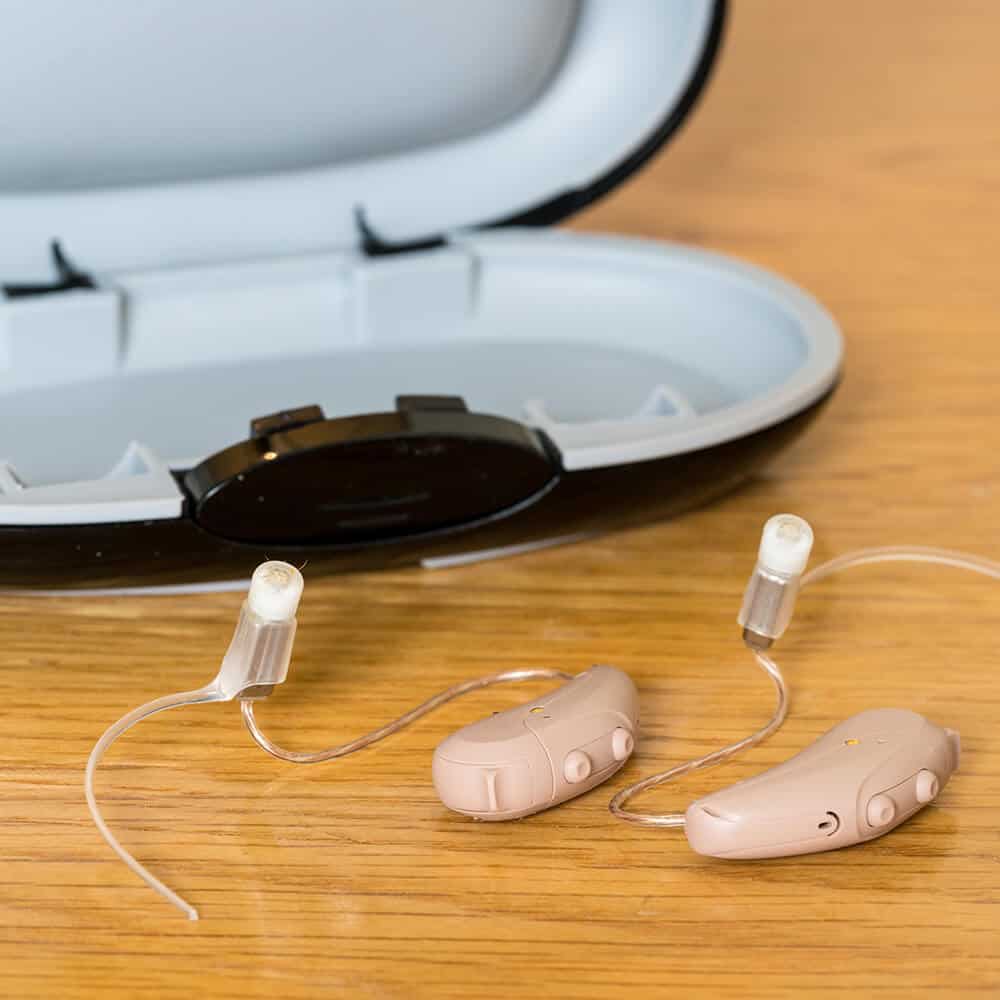 ---
To safeguard your investment, store your hearing aids each night in a dry box. Electronic UV drying systems can also now be purchased. They provide a form of light that makes survival difficult for most bacteria and other germs. They often provide moisture removal desiccants and fans to circulate air into the hearing aid's inner components. The trick to keeping your device operational for the most extended amount of time is prudent maintenance like this.
Troubleshooting Your Hearing Aids
It's time to take a closer look when you get feedback, sound interruptions, a less comfortable fit, or whether there are other signs of malfunctioning.
While we would never suggest opening the device yourself, if your hearing aid does not work correctly, you might try a few things at home:
Search for blockages in the microphone or vent.
Check the hearing aid battery compartment for corrosion
Clear any dirt or debris from the casing with a hearing aid brush.
Change the wax filter.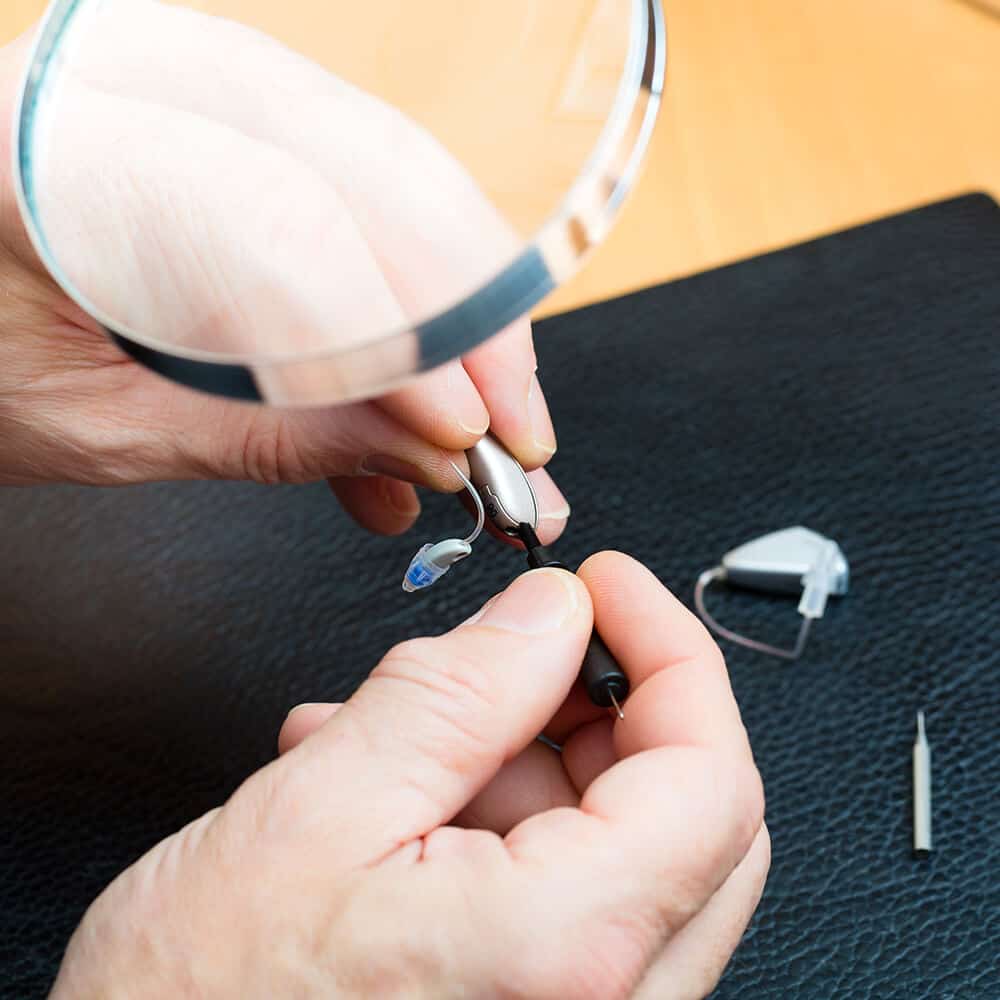 Hearing Aid Repair
It might be time for us to take a look if you have tried the above to no avail. We provide on-site hearing aid cleaning, repairs, and updates at Audiology Consultants of Panama City, wherever you bought them from us or from anywhere else. We know how much you rely on your devices, so we do our best to make the hearing aid repair process as quick as possible.
We can perform many repairs in-house but may send the hearing aid to the manufacturer if the damage is more serious.
---
Several factors can influence the total cost of the hearing aid repair.
Whether the manufacturer's warranty is still valid for the hearing aid.
The level of damage to your hearing aid.
How much the cost of new components will be.
If you have purchased a hearing aid from us and it is still under warranty, the repair won't cost much. But if the warranty has expired, it will incur a larger charge.
Depending on the repair price, you could be better off investing in a new pair of hearing aids in some instances. If your current hearing aids are more than five years old, consider an upgrade. Technical advances mean that today's digital devices are far more sophisticated than those a few years older and are filled with features to improve your listening experience. Similarly, it may not be worth fixing the hearing aid if the damage is severe or the hearing aids have already been repaired several times in the past.
We can't wait to help get you back to connecting with your loved ones. To set up a hearing aid repair appointment, contact us today.
Industry/Employer Services
Hearing Conservation - Occupational Safety and Health Administration regulations concerning Occupational Noise Exposure require hearing conservation programs for employees exposed to elevated levels of noise. Noise is one of the few preventable sources of hearing loss, yet it is one of the leading occupational injuries. Worker's compensation claims for hearing loss can be prevented using proper hearing conservation programs. The professionals at Audiology Consultants can help your company develop a Hearing Conservation Program. Because we are a local company, we can work with you at your convenience and our staff will familiarize themselves with your workplace and requirements. We offer the following services:
Audiogram Review and Consultation
Audiologists review the hearing tests, determine work-relatedness and evaluate medical referrals. These are reviewed in-person, on-site and they include on-going assistance from our professional staff.
Education
On-site training on hearing protection designed to fit your company's specific needs.
Personal Hearing Protection
We assist employees with proper personal protection both for the workplace and for their recreational needs.
Noise Surveys
We do a walk-around survey of noise levels in areas of your company and during each individual shift to establish a baseline and determine your needs.
On-Site Hearing Tests
No long down time for employees – we come to your facility and perform the tests in an efficient and cost-effective manner. All testing is done by CAOHC certified technicians.
Data Analysis and Reporting
Hearing test and noise survey information is processed into a company-specific database and the detailed reports form your compliance program.